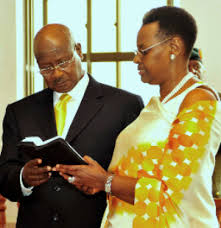 President Yoweri Museveni and his wife Janet Museveni have renewed their marriage vows, toasting to love and friendship.
The colorful ceremony held yesterday also saw the jovial couple also witness the baptism of their grandchildren.
The groom clad in a black suit and white shirt and the bride a crème trendy gown thanked God for the forty years in marriage saying this is a journey they started as two people but they are now a family of 23.
The coupled renewed their commitment to love each other and asked for forgiveness where they wronged each other.
There was laughter when the Bishop asked the groom to kiss his bride, and the president said kissing was un African.
The memorable event took place at Nshwere Church of Uganda in Kiruhuura District and was attended by close family members, religious leaders, ministers, members of parliament, business fraternity and well wishers.