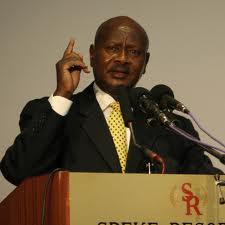 Africans should use the existing situation in the world to create opportunities for development to be realized.
The call was made by President Yoweri Museveni while addressing members of the East African Legislative Assembly, during a special sitting here in Kampala.
He noted that just like Africa took advantage of the world wide campaign against colonization to gain independence, there is need to to take advantage of the wide spread prosperity to avoid continued marginalization and future re-colonization.
The President said Africa has got many opportunities which could utilized to spur social economic development.
He however noted that the bigger challenge lies in the lack of self-belief among Africans, which he says must be addressed before real development can be witnessed.
Meanwhile, the Speaker of Parliament Rebecca Kadaga has called for prioritization of the free movement of goods among East African countries.
Speaking during the same sitting, Kadaga said there is need to draft laws that create room for free movement of good among countries for growth.
She emphasizes the need to remove non-tariff barriers for both goods and labor.
The EALA speaker, Margret Zziwa said members of the regional Parliament have made several resolutions intended to benefit East African member states.
She says the major target for the assembly is to reduce the structural inequalities.