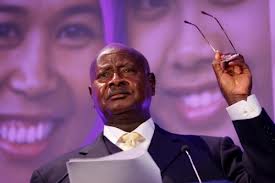 Kenyans must be given chance to handle their affairs.
This is a call made by President Yoweri Museveni while delivering a key note address on behalf of all the invited heads of state at Swearing-in of Uhuru Kenyatta.
He noted that although he supports the ICC because he does not condone impunity, he is disappointed that some actors have used their careless analysis to distort the purpose of the institution.
Museveni said what is needed is an ideological solution by discerning what triggered the 2007 inter community violence in Kenya.
He said that in Uganda's case, between 1966 and 1986, over 800,000 people were killed by the leaders who were in charge of the country but neither the ICC nor the UN was called for help.
He further explained that LRA leader Joseph Kony was only referred to the ICC because he was operating outside Uganda.
Speaking in reference to the indictment of Uhuru Kenyatta and his Deputy William Ruto, Museveni said Kenyan actors are the ones best qualified to sit and delve into their history in order to discover the ideological stimuli the Kenyan society needs.
Museveni has also saluted the Kenyan voters for rejecting what he called the black mail by the International Criminal Court and those who seek to abuse this institution for their own agenda.
He has congratulated Kenyans upon holding a peaceful election and the Kenyan media for exhibiting a high degree of independence and professionalism.