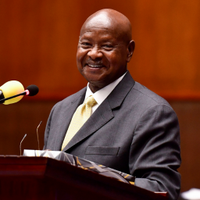 By Damali Mukhaye
President Yoweri Kaguta Museveni will be delivering the end of year address to the nation tomorrow Thursday 31st December in the evening.
Museveni's press secretary Don Wanyama has confirmed the development saying this will take place tomorrow at 7 pm in the evening virtually.
He says that the signal shall be available from the UBC network where other Media houses will get information from.
President Museveni is expected to update the nation on covid-19 cases in the country and other updates experienced in the country throughout the year.