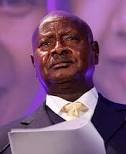 NAADS coordinators are to be fired.  President Yoweri Museveni has revealed that all district coordinators under the National Agricultural Advisory Services programme are to be withdrawn from all districts.
While speaking at the celebrations to mark National Heroes day in Mityana today, Museveni said the programme failed due to diversion of resources by the officers.
This comes days after he directed cabinet to disband NAADS, on grounds of misappropriation of resources.
He says the programme will be restructured to directly benefit the farmers while army veterans will be in charge of educating farmers on modern methods of farming.
Earlier over 300 individuals were awarded medals. The Presidential Awards committee chairperson, Gen. Elly Tumwine said over 700 people had been lined up for the awards but only 386 people have received the awards today.
182 individuals have received the Nalubaale medal, which is awarded to all civilian activists who have contributed to the political struggle of Uganda since 1962. 121 people have received the Golden Jubilee medal, while 65 have got the Luweero triangle medal.
Gen Tumwine has however warned the recipients that the medals can be withdrawn if they engage in acts of indiscipline.
Meanwhile, a group of war veterans has added their voice to the growing list of NRM supporters endorsing President Yoweri Museveni as the sole candidate in the 2016 elections.
NRM MPs early this year voted to back President Museveni in Kyankwanzi to run for a fifth term in office.
Speaking at the national Heroes day celebrations at Bukalamuli-Kikandwa in Mityana district today, the chairperson of the Uganda National War Veterans Association Edirisa Ssedunga said President Museveni has restored peace in the country, as well as improved health and education services.
He however says the government needs to do more to provide services to the people at the grassroots, including water and electricity.