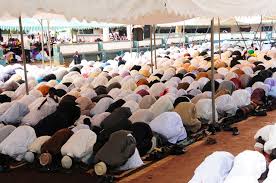 Muslims across the world have today thronged places of worship to celebrate Eidh Al Adhuha.
In Uganda, the Mufti Sheik Shaban Ramadhan Mubajje has lauded the Uganda National Examinations Board for postponing today's exams.
Yesterday UNEB announced the postponement of the Chemistry Paper to allow Muslim students celebrate Eid Al Adhuha.
The Mufti was this morning delivering his Eid Adhuha Message at the national mosque in Old Kampala;
The senior four students were meant to sit for Chemistry practicals today but UNEB chairman Fagil Mandy says a new date shall be communicated in due course.
The exams will resume tomorrow, with students sitting for mathematics paper one and two.
At Nakivubo stadium where the Tablique sect held their Eid prayers, Imam Haruna Haruna Kasujja has called for promotion of unity and reconciliation.
At Kibuli Mosque, the Supreme Mufti Sheik Zubairi Kayongo has called for registration of all Muslims to identify those who are able to take up leadership positions in the country.
Delivering his Eid message, Sheik Kayongo said this is also in preparation for the 2016 general elections.
In Jinja district, Eid Prayers have been disrupted by a heavy down pour. While in Mayuge district the Muslims of the Aqlubait sect have not celebrated Eidh Adhuha today. They plan to have their celebrations tomorrow after sighting the moon. In Masaka the county Sheik Twaha Bugembe has asked parliament to pass the anti-homosexuality bill.
And in Mubende district Muslims have been asked to desist from all forms of corruption and bloodshed which is not acceptable in Islam.
The Eidh prayers were led by Sheikh Muhamood Walusansa.