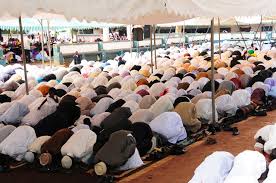 Hundreds of Muslim faithfuls have thronged the Old Kampala Mosque for the national unity prayers that begin in just a short while.
The prayers are to be led by the Mufti of Uganda Sheikh Mubajje, were called by the Uganda Muslim Supreme Council to help foster unity.
The prayers are to be held under tight security with several anti- riot police patrol vans seen parked near the mosque.
Addressing journalists earlier, Luwero district chairman Haji Abdul Naduli and the Uganda Muslim Supreme Council spokesperson Haji Nsereko Mutumba have urged all warring factions to heed the call for unity.
However, the Kibuli faction led by the Supreme Mufti Sheik Zubairi Kayongo has vowed not to take part in these prayers, saying the integrity of the organizers is questionable.
"We will shun the prayers, on grounds that the differences among the Muslim community have not been resolved conclusively", says the secretary general of the Kibuli faction, Hajj Muhammad Kisambira.
The divisions among the Muslim community were sparked by allegations of the illegal sale of Muslim property by the Mubajje faction, a claim they have vehemently denied. The arrest of a number of Muslims in connection with the recent killing of two Muslim clerics also threatens to deepen the rift.
Story by Shamim Nateebwa