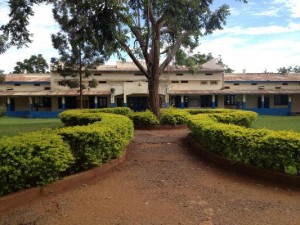 Image of part of the school structures
Busoga College Mwiri has been closed indefinitely.
This is after the students resumed their strike this morning, with cases of violence noted.
The Head of school Godfrey Wamala Lule says the administration is to sit and see how best to handle the matter.
All students have been ordered to leave and by press time, more were still  packing their bags.
The students began striking yesterday protesting the poor living conditions at the school.
They accuse the school leadership of mismanagement of the institution citing cases of nepotism in the hiring of the staff, poor quality of service delivery and poor feeding among other issues.
The closure of the schools comes days after schools reopened for the second term.