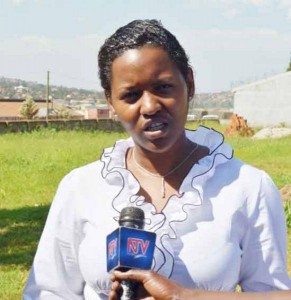 Democratic Party's Brenda Nabukenya has been declared winner of the Luweero district woman seat.
Nabukenya defeated her major opponent, Rebecca Nalwanga from the NRM with a margin of 16,346 Votes
She garnered 38,582 Votes while Nalwanga got 22,236 votes.
Other candidates in the race were Farida Namubiru who got 717 votes and Ramula Kadala who got 758 votes.
The winner was declared by the district returning officer Harriet  Komuhangi.
Meanwhile Electoral Commission chairman Eng Badru Kiggundu says the elections were a success attributing it to cooperation from all players.
Meanwhile, before the results were announced, police battled supporters of DP candidate Brenda Nabukenya who stormed the district headquarters in jubilation.
In the scuffle that ensued, our reporter Herbert Zziwa was beaten up.
The by-election marks the end of a 26-day electoral process that has been characterized by accusations and counter-accusations.
The Luweero district woman seat fell vacant after court nullified results from the 2011 elections over electoral malpractice.