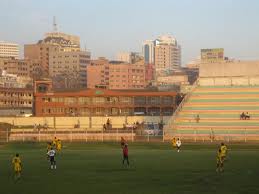 Nakivubo war memorial stadium has been reopened.
After 5 weeks of closure over tax arrears, the stadium has been  reopened following agreement between the Uganda Revenue Authority and the stadium management on the terms of payment.
This has been confirmed by the stadium manager Ivan Lubega.
The tax body had taken over the stadium after management defaulted on Sh388m in tax payments.
The debt had piled over a 5-year period after Value Added Tax and Pay As You Earn amounts were not remitted to the tax body.
Officials indicated that Nakivubo management had issued 12 posted dated cheques since the year 2011, and that 10 cheques have bounced to date.
Only two cheques worth sh10m were successful.
Lubega says the decision has been reached after a series of protracted meetings in which the two parties agreed on a Shs 50m down payment as a precondition for reopening.