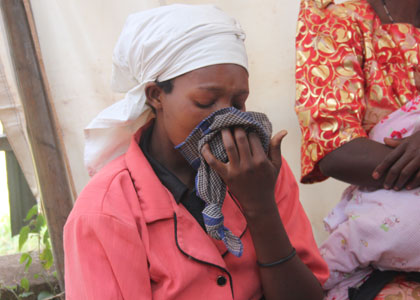 Another Namungoona fire victim has died this morning.
Patrick Sserunkuuma succumbed to the burns he sustained when a fuel tanker exploded on Saturday night
This brings to 39 the total number of the dead.
His demise came amid fights between his family members on who is to receive the Shs 5 m from government.
This morning, three family members who disagreed on who should take the money returned with evidence of clothes and shoes to prove they were close to the deceased.
Mulago hospital authorities have however decided to carry out DNA tests on a one Jessica Nalule who claims to be the mother to the deceased.
So far 31 bodies have been picked with 7 bodies still unidentified.
Senior pathologist Moses Byaruhanga says 3 other bodies are being claimed by more than one families and DNA tests underway.
He says results from the tests will be out next week on Tuesday.
Meanwhile counseling sessions organized for relatives of the deceased hang in balance.
This is because many are now involved in fights over money instead of attending the sessions.
Senior counselor, Nakimuli Mpungu says there are no more people turning up for the sessions because many are chasing money.