By Ritah Kemigisa:
The national theatre is not up for sale but rather is being renovated to extract more revenue for the economy by pulling more artists to perform and utilize the facility.
The remark has been made by the permanent secretary to the Ministry of Gender Pius Bigirimana while addressing journalists at the Media centre ahead of the East African community arts and culture festival dubbed Jamafest.
Recently, reports emerged that the facility isup for sale, a development which raised uneaseamong Ugandans, singers and actors.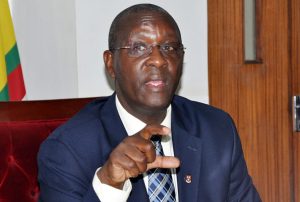 According to PS Bigirimana the new face lift of the theatre was to prepare the country for the Jamafest which the country is to host.
The Jamefest which kicks off with a carnival on 9th September will conclude on 14th September and is expected to attract over 1000 delegates from Kenya, Tanzania,Rwanda,Burundi and South Sudan.