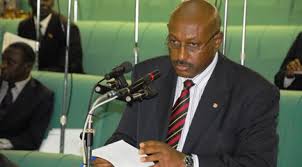 The newly appointed Attorney General Fred Ruhindi has expressed willingness to work with the opposition in championing the country's common goal.
His comments follow yesterday's reshuffle which saw his former boss Peter Nyombi dropped, paving way for Ruhindi's elevation to the position of Attorney General.
Addressing journalists today, Ruhindi said he had all the necessary experience to run the office, adding that the usual challenges can best be addressed through joint efforts.
Meanwhile, the Uganda Law Society has spoken out on the outgoing Attorney general Peter Nyombi's misfortune.
The group says that despite giving contradictory legal opinions to the President during his four-year tenure he is still part of the fraternity.
The Law Society president Ruth Sebatindira says though they disagreed on fundamental constitutional issues he remains a professional colleague.
During his tenure, Nyombi had it rough with his fellow lawyers, culminating into his suspension on August 14th 2013.
His two year suspension was followed by issuance of a certificate of incompetence.
This was after over 350 lawyers in an extra ordinary meeting; accused him of allegedly misadvising President Museveni on a number of controversial issues including the re-appointment of retired Chief Justice Benjamin Odoki despite clocking the retirement age of 70.
For the leaders in Kigezi sub region, the cabinet reshuffle is likely to breed hatred.
The sub region got 9 ministers plus the leader of government business.
According to Fr. Geatano Batanyenda, the parish priest for Kitanga Catholic Church in Kabale, the appointment of these many ministers from Kigezi sub region may generate hatred from other sub regions.
However, the senior presidential advisor for Kigezi sub region John Bitunguramwe says the team was carefully chosen to strengthen NRM for actual development.
Those appointed or reappointed from the include Shem Bagaine, Henry Banyenzaki, David Bahati,Tress Buchanayandi , Dr Philemon Mateke, Dr Chris Baryomunsi, Jim Muhwezi, Sezzi Mbaguta, Aronda Nyakeirima and Dr. Ruhakana Rugunda.
The muslim community too has spoken out and renewed their demands for a share of the national cake.
A section of the Muslim leadership has expressed disappointment over the latest cabinet reshuffle.
The spokesperson of the Kibuli Sect Sheikh Hassan Kirya says it is unfair to have no Muslim name among the new appointment.
He says unlike before, many Muslims are now learned and capable of taking up cabinet positions.
He says with few representatives, the voice of the Islamic faith regarding policy is suppressed.
Earlier, the spokesperson of the Uganda Muslim Supreme Council Hajji Nsereko Mutumba urged Muslims to engage in active politics and not wait for cabinet appointments.