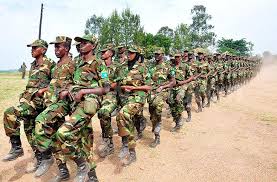 The African Union Mission in Somalia has a new commander.
Lt. Gen. Silas Ntigurirwa of the Burundi National Defense takes over from Lt. Gen. Andrew Gutti of the Uganda Peoples Defence forces .
Speaking at the hand over ceremony,  Lt Gen Gutti said he was proud that he has been able to extend the operations of AMISOM to different parts of the country and supporting the political process i9n Somalia.
Lt. Gen Gutti is optistic that with reinforncement of troops, deployment of more forces and logistics will help wipe out the Alshabaab.
The UN has already approved increment of the AMISOM forces from the 17,731 troops, to a maximum of 22,126 with the mandate extended up to October 2014.