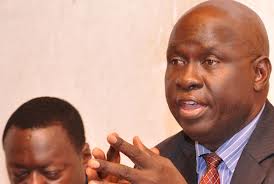 The leader of the opposition Wafula Ogutu has today named a new shadow cabinet and leaders of parliamentary accountability committee.
Alice Alaso becomes the new chairperson of the Public Accounts Committee replacing Kasiano Wadri.
She will be deputized by Paul Mwiru. Kasiano Wadri moves to the Government Assurance Committee replacing Odonga Otto. Wadri is deputized by Isaiah Sasaga.
Winnie Kiiza takes over the Local Government Committee from Jack Sabiti. Winnie Kizza is deputized by Maxwell Akora. Muwanga Kivumbi becomes the new shadow Internal Affairs Minister.
Semujju Nganda takes on the Committee on State Commissions, Statutory Authorities and State Enterprises deputized by Florence Namayanja.
Abdul Katuntu has been maintained as the shadow Attorney General, Dr Lulume Bayiga remains the shadow minister for health.
Geoffrey Ekanya remains the finance minister,  Hassan Kaps Fungaroo retains the defence docket, Francis Epatait agriculture, while Nabilah Sempala becomes the new information minister.