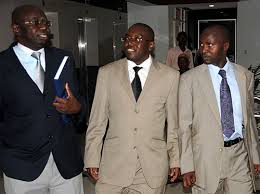 Fresh summons for the rebel MPs by the NRM disciplinary committee seem to have fallen on deaf ears once again.
One of the MPs accused of misconduct and going against the party's position in parliament is Wilfred Nuwagaba of Ndorwa East.
He has again vowed not to appear before the party's disciplinary committee.
This follows the issuance of another notice by the NRM Secretary General Amama Mbabazi requiring the four MPs to appear before the committee tomorrow.
Nuwagaba however says he cannot appear since they have filed an application before the High Court challenging the powers of the party disciplinary committee.
He adds that unless the High Court rules in favor of the committee on 13th next month, he will still not appear.
The other NRM MPs accused of misconduct are Bernabas  Tinkasimire, Mohammed Nsereko and Theodore Ssekikubo.
It is however still unclear if the trio will oblige and appear before the committee.