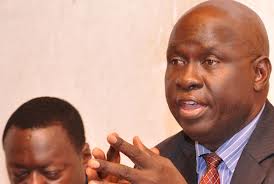 Opposition Members of Parliament have resolved not to front a joint candidate until government implements the proposed electoral reforms.
This came out at the closure of their two-day retreat held in Kampala.
Some MPs had asked opposition political parties to urgently identify a sole candidate if they are to compete favorably in 2016.
They argued that not having a unifying figure would make it difficult to win the public over in 2016.
However the Leader of Opposition Wafula Oguttu said sole candidature is not to be considered until government accepts the proposed electoral reforms.
Meanwhile opposition members of parliament are seeking audience with President Yoweri Museveni.
Speaking to journalists at parliament the shadow finance minister Geoffrey Ekanya said the president has kept silent and not come out to address the people's representatives in parliament on various issues.
Among these are; corruption, former LRA rebel Commander Dominic Ongwen and the deployment of Ugandan troops abroad.
He also added constitutional reforms and transition to the list of issues to be discussed.