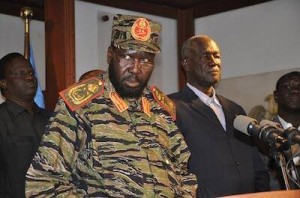 The opposition will not allow the proposal by the UPDF to have more money to facilitate Ugandan soldiers in South Sudan.
This follows remarks by the chief of defence forces Gen Katumba Wamala earlier this week that government may soon get to parliament asking for funds to facilitate the soldiers.
However shadow defense minister Kaps Hassan Fungaroo says this will not be accepted.
He further challenges the army leadership to account for the lives of Ugandan Soldiers killed in battle dismissing claims that only 9 died as the CDF indicated.
Meanwhile the defense minister and other top army officials are expected before the defense and internal affairs committee today.
Earlier, a meeting of the Intergovernmental Authority on Development that had been scheduled to take place today in South Sudan was cancelled following South Sudan's request to have the matter discussed at the African Union level in a summit slated for January 30th in Ethiopia.
Speaking to KFM, the state minister for international relations Henry Okello Oryem said they had to respect South Sudan's decision as the main beneficiary of the meeting.
He however said that this is likely to delay the process of bringing peace in the war tone country.