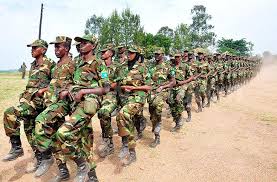 Uganda does not regret for the decision made to intervene in south Sudan.
Addressing the media today at the army headquarters defense minister Dr Cryspus Kiyonga said no amount of criticism will deter the UPDF from its role of peace building nationally and regionally.
Dr Kiyonga says their deployment to South Sudan was not just for evacuation of Ugandans and preventing genocide but ensuring national and regional security among other objectives which have all been successful.
This came as he announced the launched of the army week to be marked in Bushenyi under the theme "National consciousness and Pan Africanism, the corner stone for African peace ,stability and transformation."
Meanwhile the army Chief of Defence Forces Gen. Katumba Wamala has said that African nations must rise up and defend their own continent.
He told journalists that waiting for western powers to intervene will only worsen the situation.
Gen. Katumba says many times these big powers do not intervene where they have no interest hence the need for African nations to work together to resolve any conflicts within them.
He now says as the formation of an African standby force is being pursued, a new concept for a coalition of the willing has been set up to help intervene in case of any crisis.