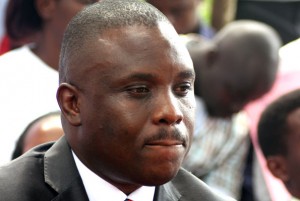 The lord mayor Erias Lukwago is to blame for his current predicament.
The NRM party has been blamed by a section of the opposition for fueling the disagreements between the two leaders at Kampala Capital City Authority.
However, the NRM caucus spokesperson David Bahati has hit back saying Erias Lukwago's woes are his own making and must not be tagged on anyone.
He has also denied reports that the party bribed the majority of KCCA councilors to influence their decision on Lukwago's fate.
The mayor was impeached on Monday after 29 out of the 32 councilors voted against his stay in office.
Meanwhile High Court Judge Yasin Nyanzi is today expected to rule on whether or not to stop the Minister in charge of Kampala from acting on the report of KCCA Tribunal pending determination of the application for judicial review. 
A council chaired by Minister Tumwebaze has already impeached Lord Mayor, Lukwago, a situation that has stirred public debate.
The judge expected to deliver his ruling at 11am.