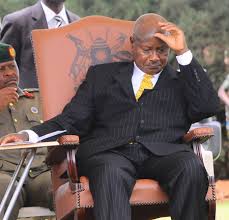 President Yoweri Museveni has accused the opposition side of engaging in vote rigging right from 1961 update.
In his article elaborating Election Rigging in Uganda since 1961 – 2014, he president said that lack of in ideology, thirst for power and money has prompted them to engage in rigging.
He sighted areas like Bushenyi, Entebbe, and Kasese and in Luwero bye-elections where he attributes the NRM defeat to vote rigging
He explained that according to his intelligence the ink was not indelible, and some rumors were passed around by somebody, telling voters not to walk to the Polling stations, that NRM will send money or vehicles for transport.  Hence, many voters stayed at home.
He is however optimistic that with computerized voting no more rigging will succeed.
Earlier, NRM Caucus deputy chief whip, David Bahati blamed its loss in the Luweero Woman parliamentary election on low voter turnout.
DP's Brenda Nabukenya trounced her closest challenger from the NRM, Rebecca Nalwanga by an over 16,000 margin in the hotly contested by election, brought on after the Court of Appeal annulled the previous election on grounds of electoral irregularities.
Bahati told KFM that the NRM government is now strategizing on how to galvanize more support ahead of the 2016 general elections.