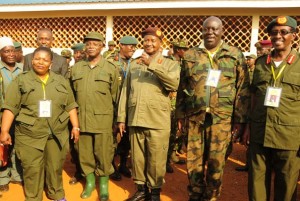 The ruling National Resistance Movement Caucus is meeting this afternoon to discuss the controversial Anti-Homosexuality Act.
The bill which was passed last year in Parliament has drawn mixed reactions, with proponents supporting criminalization of homosexuality activities.
However, President Yoweri Museveni is yet to assent to the bill, on grounds that it needs to be studied first to establish  whether the vice is a genetic disorder.
The caucus spokesperson, Evelyn Anite says doctors are making medical presentations on homosexuality to establish whether it is hereditary or just behavior.
Religious leaders have fully supported the bill, while some Western countries have condemned Parliament for passing the bill, which they say violates human rights.