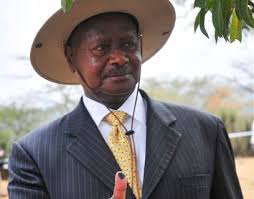 The NRM will not tolerate misbehavior within the armed forces.
President Yoweri Museveni has asked civilians to always report all soldiers and police personnel who misbehave.
While speaking at the ongoing celebrations to mark 28 years of the NRM regime in Mayuge district, the president said that the current UPDF constitutes of disciplined people, so all ill-mannered officers must be fought.
He has also asked the people in the eastern region to the embrace computerized population registration intended to among other things reduce criminal acts.
He explained that that this will help address vote rigging come 2016.
Meanwhile, over 111 people have been awarded medals for their contribution to the liberation of this country.
Some of those who have received medals include Ibrahim Mukiibi, retired bishop George Ssinabulya and Paul Kavuma among others.
The day marks the events of January 26, 1986, when the military junta was overthrown by the National Resistance Army following a five-year civil war.
According to analysts, there has been relative peace and economic growth since the NRA came to power but this has been overshadowed by corruption.
Presidential Advisor on Political Affairs Moses Byaruhanga agrees to this saying the party should now focus on consolidating what has so far been achieved.
Speaking to KFM, Byaruhanga says the corruption vice has had a negative impact on service delivery which has to stop.