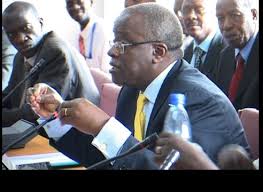 The NRM disciplinary committee has finalized its work on the case of rebel MPs.
According to the committee Chairperson Alhaji Moses Kigongo, they have come up with a decision but cannot give out details before presenting their findings to the party chairperson, President Yoweri Museveni.
Kigongo says it is the president who will then call the central executive committee to discuss the findings.
The committee sat for several hours at the Serena Hotel this morning waiting for the MPs to appear and clear their names in vain.
The MPs including Wilfred Niwagaba, Barnabas Tinkasimire, Theodore Sekikubo and Muhammed Nsereko again snubbed the party's disciplinary committee summons to appear on allegations of betraying the party.
The MPs are accused of going against the party positions in parliament.
The group is also accused of hobnobbing with members of the opposition, putting the party interests in jeopardy.