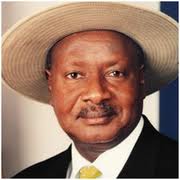 President Museveni has attributed the delay in refurbishing Kilembe mines to misapplied procedures.
Speaking at the NRM 27th anniversary celebrations in Kasese the president said the factory should be up and running but has been delayed by procurement issues.
He argues that the Kilembe mines case is not about procurement but rather investment.
He has now given the privatization unit a deadline to ensure they finalize the process soon so that the factory starts producing copper.
Museveni says lack of modernization is cause for Africa's backwardness, calling on all development minded Ugandans to support government in fighting saboteurs for the good of the country's future.
The ceremony started with the awarding of medals to several people including former heads of state, former chief justices, former and current prime ministers and vice presidents among others.
Those awarded include Sir Edward Mutesa, Dr. Apollo Milton Obote, Prof. Yusuf Lule, Godfrey Lukongwa Binaisa, Gen Tito Okello and Yoweri Museveni.
The chairman of the award committee Elly Tumwine says a list of 35,000 people have been identified and approved for award of the said medals at different occasions.
The national celebrations have been held at Nyakasanga grounds in Kasese district, under the theme "Lessons learnt from our history, NRM's commitment to create a better future for Uganda."