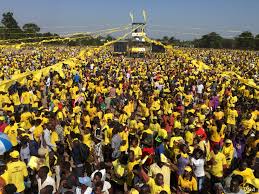 By Juliet Nalwooga
A group of NRM members from the NRM mobile volunteers' task force  have vowed to go on a 30-day hunger strike starting today until their concerns are addressed.
According to the group's chairperson, Nsubuga Mandela,  the officials in direct contact with President Yoweri Museveni have barred other NRM members with productive ideas for the party from presenting and benefiting from their work.
"We are having a mistaken identity as if we don't have leaders in this party. We have state house employees who are not truthful and are very unfair. They block us from meeting the president," he said.
Nsubuga says the ruling party has instead opted for people like Catherine Kusasira and artiste Bucherman who have not drafted any yielding proposal for the party.
"You bring a person like Butcherman who has never done any party work. It is really unfair! That is why there is a rise among the young leaders in the party. Why bring Kusasira who has just joined the party?" he said.
However NRM spokesperson Rodgers Mulindwa tells KFM that he does not know of any NRM member who has not been paid for his work and that their strategy is now to reach out to the marginalized communities in the ghetto.
"The biggest problem in NRM is that idea or concept that if something is not given to you, then the other side has made a mistake," he said.
Mulindwa further adds that a good number of people cannot reach out to the ghetto people and do not know the appropriate language to use when addressing them.