By Thembo Kahungu
The ruling National Resistance Movement party says it needs shs31bn to facilitate campaigns for its flag bearers on parliamentary, city mayoral and LC5 seats ahead of the 2021 general elections.
According to Godfrey Kiwanda, the NRM vice chairperson for Buganda, the money is to be raised through remittances by the elected flag bearers from president to the local governments.
He says the party also has money given by government under the interparty alliance by virtue of its numerical strength in parliament.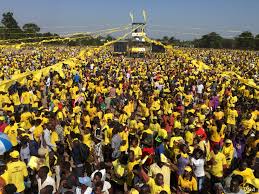 The NRM fielded candidates on all 518 parliamentary seats save for the 10 seats for the army representatives who are non partisan.
Kiwanda says the party is also facilitating the campaigns for city councillors, division mayors as well as LC3 chairpersons