By Rita Kenmigisa
The National social Security fund in partnership with Monitor Publication limited have today launched the annual career Expo at Makerere University.
Addressing students at the University Main hall, Monitor Publication Limited Managing Director, Tony Glencross says the expo will give opportunities to  University students to gain more access to professional career advice so that they are better prepared to take advantage of the employment opportunities in the market.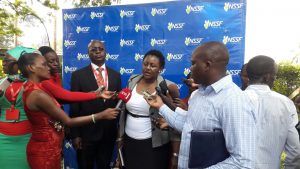 Meanwhile the Deputy Managing Director , Geraldine  called on students to be confident when seeking for employment if they are to gradually rise through the ranks of their careers.
She says the expo will provide an opportunity to students to explore careers and gain information that can help them make informed career decisions as they prepare for a life after University.
She has also encouraged students to equip themselves with a  culture of saving and also have a vision about what they want in life and where they are going.
The expo will take place in 11 Universities across the country among them Makerere University, Kyambogo University,Gulu, Mbarara University of Science and Technology and Ndejje University.