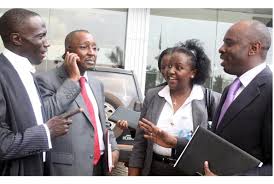 Officials from NSSF have had hard time explaining the recruitment of some staff.
Officials led by the acting managing director Geraldine Ssali were appearing before the special probe committee set up at parliament to investigate among other things irregular recruitment and Violation of the PPDA rules among other issues.
Mps including Joseph Sewungu, Ann Maria Nankabirwa and Teopista Nabulya among others raised issue with the appointment of the IGG's daughter Elizabeth Nabakooza.
.However responding to the concerns Ssali told them there was a need for two temporary staff and Nabakooza together with another girl qualified after being assessed.
She however failed to produce evidence of the assessment done on the two, prompting the committee to ask for a full list of the applications of 87 people who had applied for the jobs.