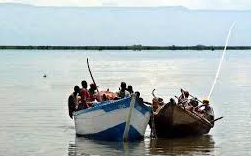 The police have finally concluded the search and retrieval process for over 100 people who drowned in Lake Albert over the weekend.
The boat carrying over 200 Congolese refugees, from Kyangwale refugee camp to Katebere landing site capsized at Ndaiga.
The chief fire officer Joseph Mugisa tells KFM that the operation has been successful, since all bodies can be
accounted for.
110 bodies have been retrieved during the four day operation.