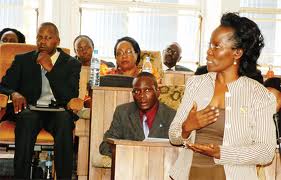 More witnesses are blaming the current mess at Kampala Capital City Authority on the executive director Jennifer Musisi.
The latest accusations are from the central division mayor Godfrey Nyakaana who appeared before the tribunal hearing a petition by 17 councilors seeking to censure the lord mayor.
Nyakaana has told the tribunal that Musisi came in with a team from Uganda Revenue Authority that is ignorant about the laws governing the operations of city.
He has also accused Musisi of usurping the powers of divisions by disempowering the town clerks and denying them an opportunity to take part in the budgeting process.
Nyakaana is one of the 11 witnesses expected from the lord mayor's office with more division mayors still expected to appear before the tribunal today.