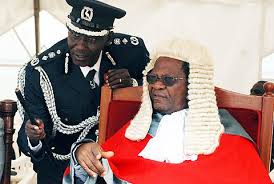 Benjamin Odoki cannot be re-appointed as chief Justice.
Four out of five justices of the constitutional court have ruled that the re-appointment would be a violation of the constitution.
Justices Solome Barungi Bbosa, Eldad Mwangusha, Lilian Tibatemwa and Remmy Kasule all concurred with the petitioners that Odoki has clocked the retirement age of 70.
The justices said that the appointment of the chief justice is coined to the advice by the judicial service commission which already rejected Odoki preferring Bart Katureebe
Justice Remmy Kasule also attacked the attorney general for failing to advise the president on the matter resulting into such petitions.
He however denied costs to the petitioners for misbehaving in court when their lawyer George Kanyeihamba walked out in protest during one the session.
On the other hand however, Justice Opio Aweri differed with the four saying that the constitutional was silent on what happens when a civil servant is re-appointed after retiring.
The ruling rises from a petition by Western Youth MP Gerald Karuhanga challenging the re-appointment of retired chief justice Benjamin Odoki after clocking 70.