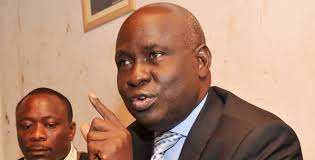 The Leader of Opposition Wafula Oguttu says no amount of pressure will compel him reveal the names of MPS who received bribes from government.
Last week Oguttu accused 18 opposition MP's of receiving 110 million shillings from government to clear personal debts.
Yesterday government chief whip, Justine Lumumba tasked Oguttu to reveal the names of the MPs or else withdraw the statements.
Oguttu says most of those tasking him to substantiate are dishonest and are trying to cover up.
Oguttu says he will not bow down to pressure from those playing games after receiving the money.