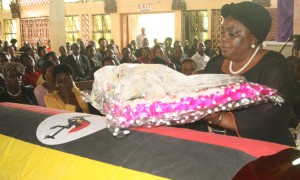 Former Minister of Culture and Sports, the late Stanislaus Okurut is expected to be laid to rest in Ngora today.
Okurut, who was husband to Gender minister, succumbed to heart failure on Saturday.
Yesterday, Parliament held a special sitting for the late Okurut, in which he was eulogized as a peace maker and distinguished politician.
However, Dokolo Woman MP, Cecilia Ogwal believes government should award Okurut and other former freedom fighters with medals for their role in the struggle to liberate Uganda.