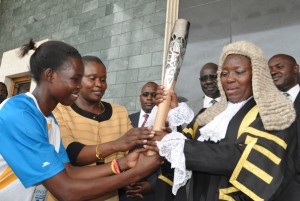 The Queen's baton has this afternoon been received by the Speaker of Parliament.
It was handed over by the Commonwealth Federation of Uganda led by Dorcas Inzikuru and William Blick as well as Education and Sports Minister Jesica Alupo.
The speaker promised that parliament would make a contribution to the facilitation of Uganda's Olympic team.
Earlier this morning the baton was taken to Buganda Kingdom where it was received by Princess Joan Nassolo.
The baton was flagged off by the Queen on October 9th , 2013 and will travel through all countries and territories of the Commonwealth over 288 days before concluding its journey at the opening of the games in Glasgow on July 23rd.
The 2014 Commonwealth Games will be held in Glasgow Scotland, over 11 days of competition from July 23rd to August 3rd.