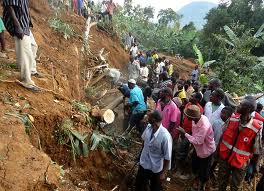 Following the heavy rains that caused landslide in Bushika sub county Buduuda, the district authorities have now written to the Office of the Prime Minister seeking intervention.
Atleast one person identified Denis Kisolo has been confirmed dead while over 300 households have been affected.
The Bududa Resident District Commissioner James Shiraku tells KFM that the landslide was caused by flooding of river Kipingi whose banks burst early this week.
Currently the district authorities are advising residents to re-locate from high risk areas.