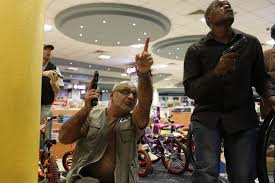 Kenya is marking a year since the attack on Nairobi's Westgate shopping centre, in which at least 67 people were killed.
A memorial plaque has been unveiled and a candle-lit vigil held.
The siege at Westgate lasted four days, with CCTV footage showing terrified shoppers fleeing the gunmen and cowering behind counters.
Somali Islamist group al-Shabab said it carried out the attack in response to Kenya's military operations in Somalia.
Event organiser Rajesh Shah says, relatives of the victims have laid wreaths at a garden in the forest where 67 trees were planted after the attack. Interfaith prayers are also being held at the site.
Earlier, all Nakumatt outlets in Nairobi were closed for one hour between 9:00am and 10:00am to allow their staff to take part in the memorial services and observed a moment of silence at noon.
Hear in Uganda, the Director Interpol Assan Kasingye says the East African region has pre- emptied many terrorist attacks ever since the West gate attack in Kenya by the al- Shabab militants.
Kasingye adds that the East African countries have harmonised their intelligence and operations on terrorism through establishing a regional centre for counter terrorism in Nairobi.
Kasingye says the East is now more secure and capable of detecting terrorism and other trans-border crimes.