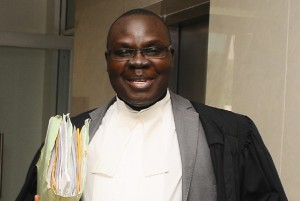 The Constitutional Court has directed the Anti-Corruption Court to try former National Social Security Fund (NSSF) board chairman Onegi Obel.
He had gone to the Constitutional Court challenging his prosecution under the Anti-Corruption Act of 2009 for offenses allegedly committed between 2003 and 2005.
Onegi-Obel contended that the Anti-Corruption Court, which was formed in 2009, did not have the powers to try crimes committed before it came into effect.
However, the five judges led by Remmy Kasule have unanimously agreed to dismiss the petition with costs on grounds that Obel's grievances were already determined in the cases of the former National Forestry Authority boss Damien Akankwasa and former Hoima mayor Francis Atugonza.
Obel faces charges of causing government financial loss of Shs 8 billion, and abuse of office allegedly committed between 2003 and 2005.