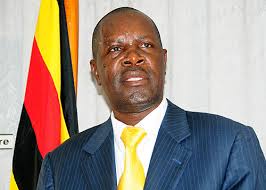 The government has advised opposition politicians who were unsatisfied with the president's state of the nation address to wait for 2016.
The advice has been given by the government spokesperson Ofono Opondo following comments from various sections of the opposition that the president's address did not tackle the pressing issues affecting Ugandans.
Addressing journalists at media centre Opondo said the president is under no obligation to please or satisfy the opposition's demand but rather to deliver the state of the nation as it is.
The president during the address said the economy had grown by 5.7 % projecting a Shs63 trillion growth in the next financial year.
Earlier, women legislators vowed not to bow to pressure to shelve the controversial Marriage and Divorce bill.
The bill, which is yet to be passed, seeks to reform and consolidate the law relating to marriage, separation and divorce.
While giving the State of the nation address yesterday, President Museveni said that the bill had caused uproar among Ugandans hence need to shelve it.
However,  Kitgum Woman MP, Beatrice Anywar says it is a disappointment to the women who need to protect themselves in marriages.
Civil society activists have criticized the State of the nation address for not capturing core sectors to drive growth.
Yesterday, President Yoweri Museveni gave his address to the nation to precede the budget reading next week.
The coordinator of Citizen's Coalition for Electoral Democracy in Uganda, Crispy Kaheru says the President did not give progress on infrastructural development and its linkage to other sectors.
Kaheru adds that this year's priority areas of agriculture, industry, services, and ICT will be dependent on the energy sector as well as the available infrastructure.