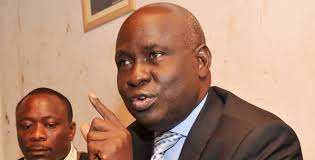 The compact document agreed upon on free and fair elections must be understood by ordinary Ugandans for it to be embraced.
Yesterday the national consultative meeting on free and fair elections came up with recommendations to be presented to parliament next week.
They include the requirement for an incumbent president to relinquish power before seeking reelection.
The others are restructuring of the electoral commission and an establishment of an independent security council among others.
Now the Leader of Opposition Wafula Oguttu says political parties, religious leaders and civil society organisations must continue lobbying masses to support the reforms.
Ogutu says it is the people that have the power to influence the MP's debate on reforms since they will be worried of losing their constituencies.
Relatedly, a section of members of the public has sighted loopholes in the recommendations on free and fair elections.
The Chairman General National Organisation of Trade Unions Usher Wilson Owere says the proposal to remove workers MP's from parliament shows the selfishness of some leaders.
Owere says workers have their specific challenges such as exploitation and low wages and these can only be addressed with their full representation.
Owere says as leaders, they are going to mobilize workers to stand against this proposal.