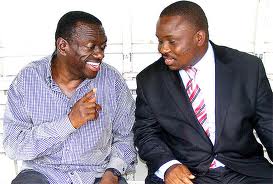 Members of the opposition have rejected findings of a KCCA tribunal that could see the Lord Mayor thrown out of office.
The tribunal set up to investigate a petition by 17 councilors regarding Erias Lukwago's performance has found him guilty of incompetence.
The report released this morning among other things; points to failure by the lord mayor to convene meetings as stipulated by law.
According to the minister for Kampala, a meeting is to be convened in 14 days to decide Lukwago's fate.
However, vowing to block the move, the opposition has announced plans to hold a grand rally in the capital on Monday.
The rally will be addressed by the lord mayor to explain to the voters details of the tribunal report.
Addressing the media at a joint press conference, former FDC leader Dr Kiiza Besigye urged government to respect the power of the people.
Some legislators too, have criticized government for deliberately targeting the Lord Mayor, Erias Lukwago.
Western Youth MP, Gerald Karuhanga and Shadow local government minister Betty Nambooze say the investigations were an attempt to curtail the powers of the Lord Mayor.
Karuhanga suggests that a by election be held, which he is confident Lukwago will win.