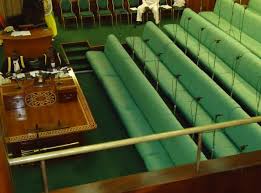 The opposition has walked out of parliament protesting the passing of the Kampala Capital City Authority budget.
The Shs250bn budget has been passed amid controversy over the ongoing fights between the political and technical wings of the city authority.
The MPs wondered why the budget was being passed without the endorsement of the Lord Mayor Erias Lukwago who is currently out of office. Lukwago has been out of office since December last year following was impeached in December last year by a group of city councilors over alleged incompetence.
The debate drew in concerns of how the authority could be run without the political head however, Kampala minister, Frank Tumwebaze defended it.
In the end, the Deputy Speaker, Jacob Oulanyah put the matter on vote on whether the budget of KCCA should not be passed, with the majority of MPs voting to have it endorsed, an act that angered Mpuuga.
Meanwhile, Tumwebaze says his team is willing to hold talks with the Lord Mayor, Erias Lukwago to facilitate his return to KCCA, on condition that he agrees to withdraw the cases he filed in court.
Shadow Minister for Presidential Affairs, Matthias Mpuuga, also questioned the powers of the Minister for Kampala, Frank Tumwebaze after queries were raised on his role in running the affairs of KCCA.
Some legislators wondered why the minister had taken over the role of the authority in decision making and the delays in fully constituting KCCA. Mpuuga says they are yet to sit and agree on the way forward.
Meanwhile, the committee on Presidential Affairs is split over the purchase of Usafi market.
In its report to Parliament, the committee chairperson, Col. Fred Mwesigye recommended that Kampala Capital City Authority be given the go ahead to purchase the market at 37 billion shillings from the current lease holder, identified as Omar Ssekamatte.
However, in a minority report tabled by the Shadow Minister for Presidential Affairs, Matthias Mpuuga, he questioned the purchase yet it was shrouded in land ownership wrangles and was also questioned by the Finance committee and PPDA.
Mpuuga had asked that the budget of KCCA not to be passed until any discrepancies on the matter is resolved.  His pleas however, fell on deaf ears.