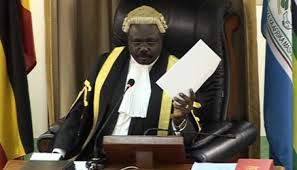 The deputy speaker of parliament Jacob Oulanyah says he stands by the statements he made earlier regarding presidential term limits.
Responding to questions from journalists this morning, Oulanya maintained that whereas the debate has come alive, its relevance remains questionable.
Oulanyah also says there is freedom of speech in Uganda and anyone can say what they feel as long as they do not break the law.
On October 13th 2014, while speaking at the national prayer breakfast Oulanyah described the debate on term limits as possible but unnecessary.
He passionately addressed President Yoweri Museveni as "my hero' and "an agent of God" wondering whether the NRM leader uses 'magic' or 'witchcraft' to govern Uganda for 28 years.