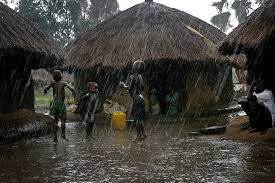 Over 200 pupils are stranded after a hailstorm destroyed their classrooms.
A hailstorm that hit Ngugo parish in Bugamba sub county Rwampara destroyed several classroom blocks at Binyuga Primary School and several homes.
The Monday night heavy downpour left four classroom blocks  completely destroyed including all school text books as well as part of the school banana plantation that had been providing lunch to staff.
The Sub County Chief Bugamba Nelson Mugumya has advised parents and other stakeholders to cooperate and plant more trees that can act as wind breakers and prevent wind from causing havoc.
Meanwhile, an old man who had taken shelter on the veranda at the school narrowly survived death when a wall collapsed on him and his one year old granddaughter.
They are now fighting for their lives at Itojo hospital.