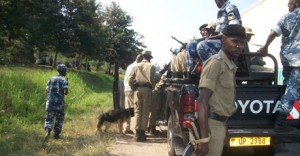 Over 40 assailants have been confirmed dead following Saturday's attacks in the Western districts of Kasese and Bundibugyo.
The UPDF spokesman for the Rwenzori Region Lt. Ninsiima Rwemijuma says the group was killed after it attempted to attack Kinyamirima barracks in Bundibugyo district.
Meanwhile, in Kasese at least twelve people have been confirmed dead.
They include Jacob Muhindo a policeman, a UPDF veteran Corporal Grace Tibimanya with his three children. His mother has since gone missing.
Authorities say three other civilians were also killed.
In Bundibugyo, another group of thugs attacked the police station killing two officers; Assistant Superintendent of Police (ASP) Wilson Mugume Bataka the Officer-in-Charge and Police Constable Aliga Swaibu.
In a press statement, police Spokesperson Fred Enanga has blamed the attacks on groups of thugs suspected to be radical elements linked to the Obusinga bwa Rwenzururu, a Bukonjo cultural institution.
He said the group that was armed with machetes, spears and guns descended on the towns of Kasese, Bundibugyo and Karugutu in Ntoroko District.
Four of the attackers were killed and seventeen others arrested and are being interrogated.
In Ntoroko District, the fourth group of thugs attempted to attack Karugutu Police Station but fell in an ambush near the station and two were shot dead.
The motive of the attack remains unclear.
Police is yet to give an update on the situation.