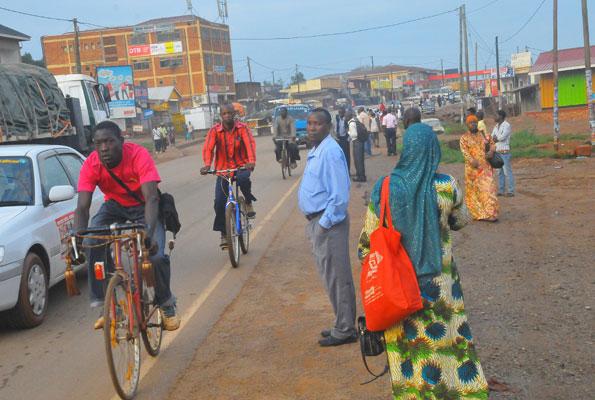 Over 40 people have been arrested as a section of taxi drivers continue with their sit down strike.
Kampala South Regional police commander James Ruhweza says many of these were arrested from Kabalagala, Kibuye and Kawempe.
Ruhweza says some of the arrested were blocking taxis and bodabodas from transporting people this morning.
Meanwhile a meeting is underway between the striking public transport service providers and the police.
The strike that started this morning has seen thousands of Kampala residents walk to work while others have been forced to pay almost double the usual transport fare to get a seat in one of the few taxis that are working.
The Chairman of the Taxi drivers and Conductors Association Mustapha Mayambala, says they are to meet the Inspector General of Police Gen. Kale Kayihura to discuss the way forward.
He explains that their meeting with Kayihura is to help streamline the city transport industry but not to punish the passengers.
High ranking Police officers including the commandant Kampala Metropolitan Andrew Felix Kaweesi and Head of Traffic Dr. Stephen Kasima. Kayihura is in Masindi but is expected for the meeting anytime soon.
Meanwhile, Kampala Capital City Authority has called for dialogue with the disgruntled public transport operators.
The Authority spokesperson Peter Kaujju says they will continue engaging the drivers in dialogue to have a good relationship so that order can be restored to the city.
A section of players in the transport sector under National Union of Drivers, Cyclists and Allied workers led by their chairman Abdul Kitata has laid down tools.
They have complained of harsh treatment by TAPSCOM, a committee that was established by KCCA to oversee the transport sector in the city.
However other transporters, under Uganda National Lorry Drivers and Transporters Association and Kampala metropolitan association are against the strike.
Earlier, City Lord Mayor Erias Lukwago said the problems in the transport sector can only be solved by a comprehensive plan supported by all players.
He told KFM that currently the private sector controls the transport sector with KCCA as a regulator calling for respect for all stakeholders.
Lukwago added that the laws on transport in Kampala are not clear and this has created room for confusion.
He referred KCCA to the mass transport bill that was tabled in council but never considered, as one way of ending problems in the transport sector.