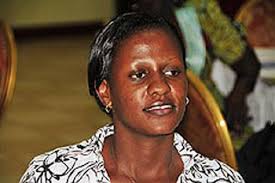 A somber mood continues to engulf parliament as the body of the late Kariisa Arinaitwe lies in state.
The body has now been moved inside the chambers of parliament for MPs to pay tribute.
First to lay a wreath was the Deputy speaker of parliament Jacob Oulanyah, followed by the Third Deputy Prime Minister Moses Ali, Acting Leader of opposition Betty Aol Ocan and Government Chief Whip Kasule Lumumba.
The motion to honor the late Arinaitwe has been moved by Gen. Moses Ali and seconded by Buhweju County MP Ephraim Biraro.
Gen. Ali has describes her as a hardworking legislator who had a promising career.
The former woman MP for Buhweju district died on Wednesday after a long illness.
At 3pm, a requiem mass will be held at Christ the King Church.
The body will tomorrow be transported to Buhweju for a vigil ahead of the burial slated for Sunday.