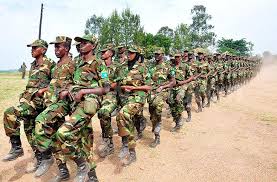 Government maintains its position on the deployment of the UPDF in South Sudan.
State defence minister Jeje Odongo has told parliament that  issues of territorial security are not debatable.
Speaking during the special parliamentary session called to discuss the matter this afternoon, Jeje Odongo said issues of territorial security are not debatable.
Likening the situation to a house, Odong said a house cannot be protected far from its walls. He also cited the US which he says is protecting its territory from as far as Iraq and Afghanistan.
Several Members of Parliament across the political divide have in principal supported the deployment but queried the method in which it was done.
Legislators including Busiro North MP Prof Gilbert Bukenya, Medard Segona, Reagan Okumu, Odo Tayebwa, Hassan Kaps Fungaroo and Sebuliba Mutumba among others have said that while evacuation was important, continued stay of the UPDF in South Sudan and its active involvement in the conflict only endangered Ugandans.
However security Minister Muruli Mukasa appeals to MPs to support the motion moved by the Defence Minister for the good of the entire country.
The motion to supporting the deployment was moved by Defence Minister Crispus Kiyonga and seconded by Hon Ruth Nankabirwa.