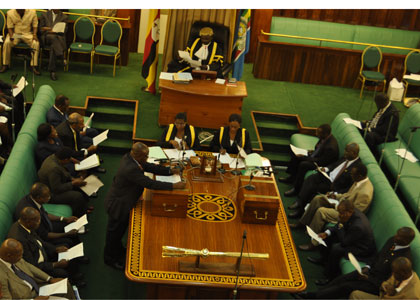 The Registration of Persons Bill 2014 has this eving been passed by parliament.
This followed protracted debate on the matter with rope pulling between legislators over some contentious clauses for the past three weeks.
If assented to by the president, the bill will make the registration of all persons in Uganda compulsory.
It also means that persons requiring a service from a Ministry, government department or agency will have to show proof of registration by providing their National Identification Number or National Identification Card before being served.
Speaking after the vote, the Speaker of Parliament Rebecca Kadaga applauded members for their various contributions and commitment.
However this did not go down well with Jinja East MP Paul Mwiru who accused fellow legislators of voting blindly and approving some controversial clauses particularly 40(2) which allows the Electoral Commission to use the data for various purposes.
Several legislators including Medard Segona, Nandala Mafabi, James Kakooza and Eriaku Peter among others also expressed their views on the matter saying that several key amendment proposals had been ignored.
However Speaking to KFM, the Deputy Attorney General Fred Ruhindi welcomed the move saying it will help curb vote rigging.
Relatedly, opposition chief whip Cecilia Ogwal has proposed that the recently installed electronic voting system be put to use.
Her proposal came right after the Registration of Persons bill 2014 was passed by the House this evening.
However Ogwal says for some controversial bills like the above, it would be important for the entire country to know who voted and for what.
In response the Speaker Rebecca Kadaga has said the legislators would need to be taken through some training on using the system before it can be used.
Story by Benjamin Jumbe