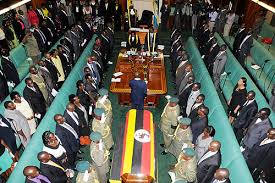 Legislators across the political divide have lauded the late former minister, Stanislaus Okurut as a peace maker and accomplished politician.
Okurut, who was husband to Gender minister, Mary Karooro, passed away on Saturday.
Prime Minister, Amama Mbabazi moved the motion, in which he described Okurut as a politician who fostered togetherness among his people and Ugandans.
Leader of Opposition in Parliament, Wafula Oguttu, who seconded the motion, said politicians should emulate the late Okurut's spirit of togetherness, regardless of political affiliation.
The former sports minister who was husband to Gender Minister, Mary Karooro Okurut, succumbed to heart failure on Saturday.
Burial is slated for Wednesday in Ngora district